Schultz & Larsen | Tactical
The Tactical with the PSE Carbon Fibre Stock.
We have currently two rifles available with the PSE Stock fitted.
To find out more - Tactical PSE Stock >>>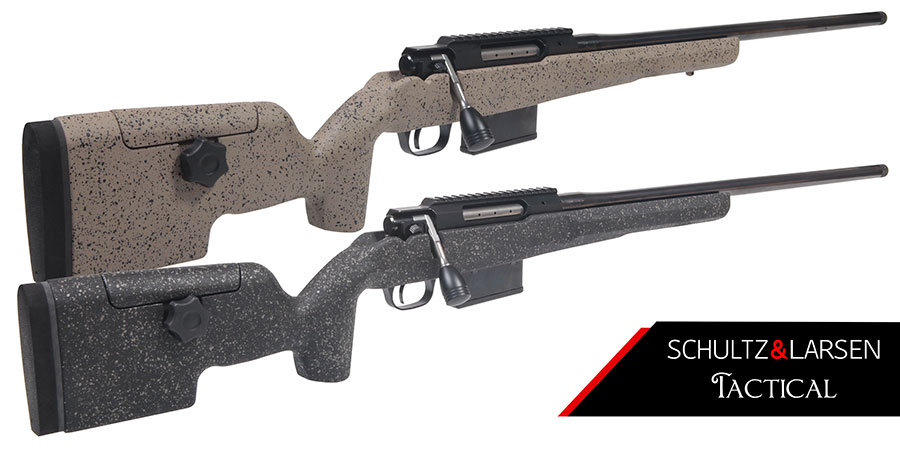 Featuring an integral Picatinny Rail, the Tactical is a barrelled action of choice for those who demand the stability of a heavier platform. The Tactical is available in right-hand only.
Illustrated here with the longer 74cm, 27mm diameter barrel and also the shorter 58cm, 30mm diameter barrel. The Tactical is a switch barrel rifle and will accept any Classic or Victory barrel without modification.  This gives the convenience of a fully adjustable stock and Picatinny rail for night vision optics without the weight penalty of a heavy barrel.  To reduce weight further, an aluminium action body is available as an option.

The Tactical is supplied with 6 shot magazine as standard, but will accept the smaller capacity magazines if required. Two bolt handles, large and medium, are included.
As standard, the Tactical is fitted with the excellent Schultz & Larsen designed 2-stage trigger.  The first stage of the pull takes up 60% of the pull weight making for a very light and crisp final break.  This trigger allows absolute precision whilst retaining adequate sear engagement to ensure safety in all conditions.
Standard barrel diameters are 16mm, 17mm and 19mm but also available are 25mm, 27mm and 30mm.  Please note that not all calibres are available in all profiles but may be possible to special order.
Weight depends on barrel choice but with the steel action is 1,470g, plus barrels weighing various weights depending on specification. The featured Tactical barrel of 74cm weighs 3,170g and the barrel of 58cm weighs 2,840g.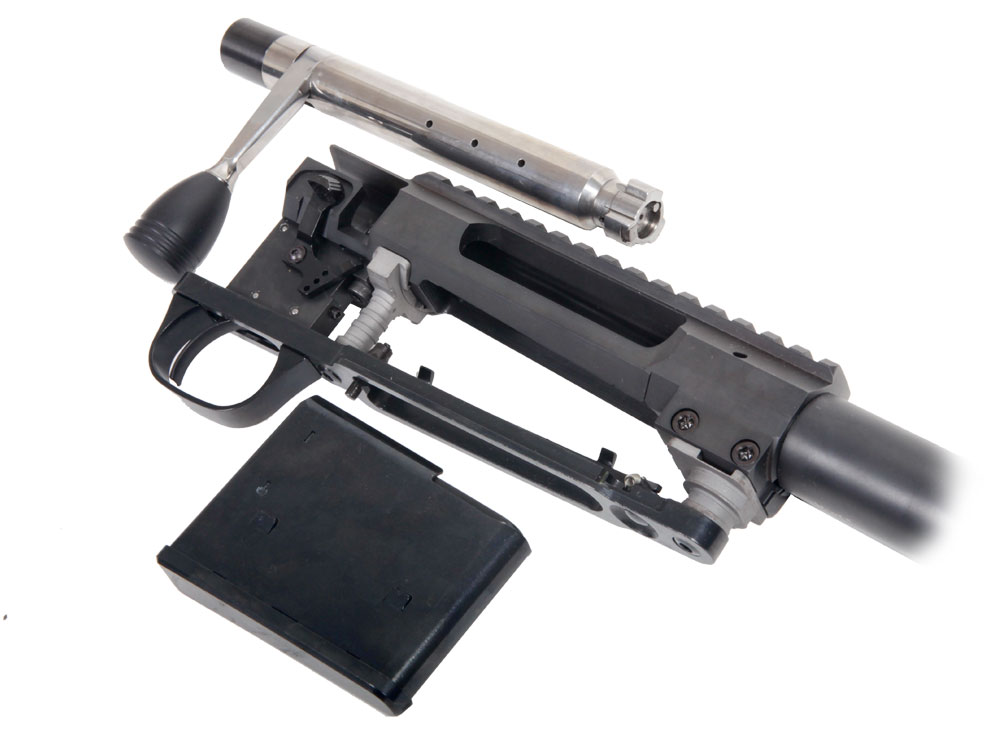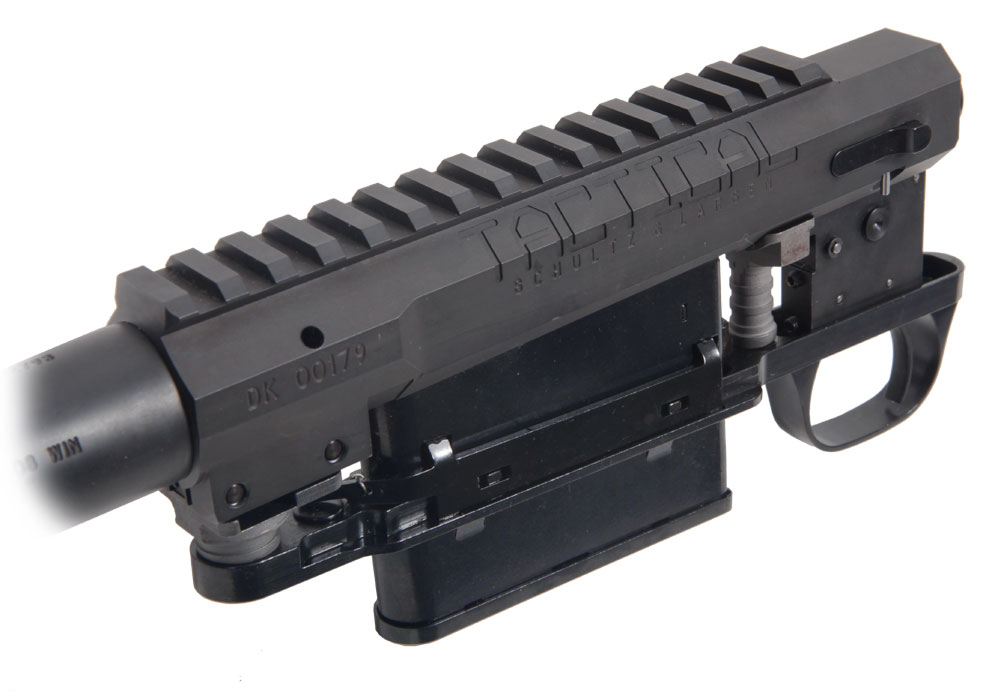 Safe Construction
Safety has top priority with all locking parts designed and tested to withstand at least three times normal load.  In the case of an overload resulting in a primer blow-out or case rupture, the high pressure gas can escape through holes in the front of the action and on the side of the bolt.  This, coupled with the extremely tight fit of the bolt and action, ensures that the shooter is not injured.
The safety catch is three position and locks the bolt and blocks the firing pin.  The centre position allows unloading of the rifle whilst the safety is engaged.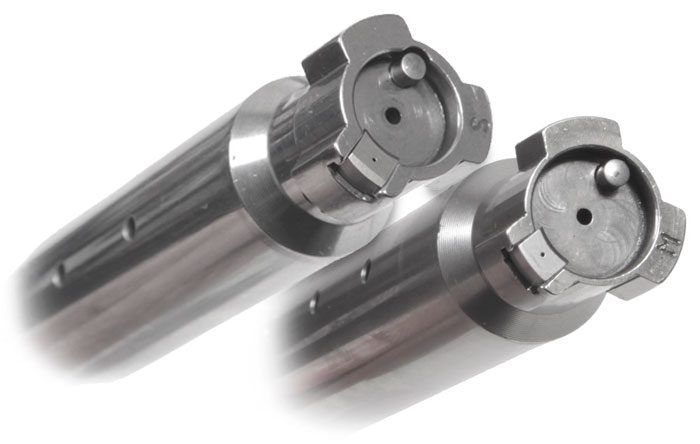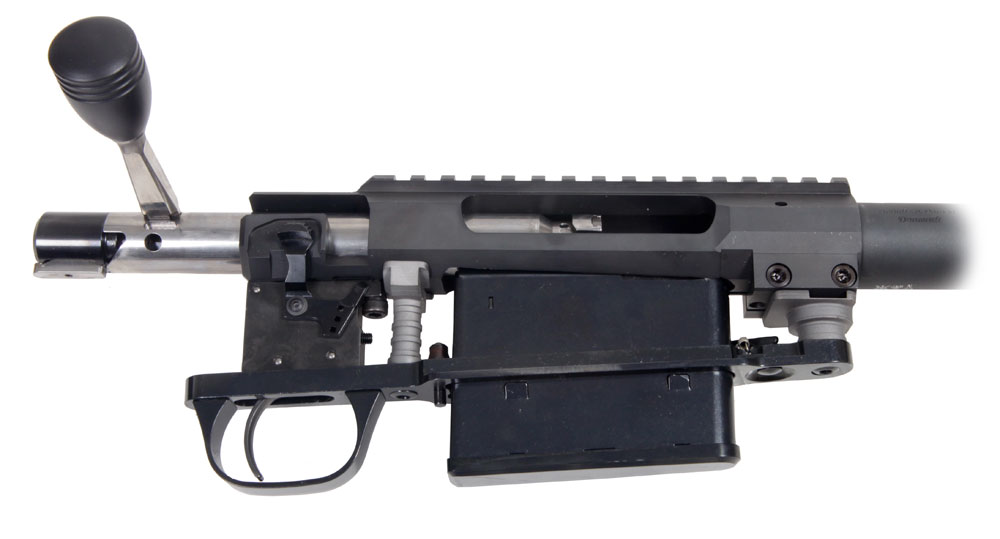 Calibres | Standard
| | |
| --- | --- |
| .22-250 (K) | 6mm XC (1 Skud) |
| .243 Win (K) | .25-06 (L) |
| 6.5x47 Lapua (K) | 6.5x55 SE (L) |
| 6.5-284 (M) | 6.5 Creedmoor (K) |
| .270 Win (L) | 7x57 (L) |
| 7x64 (L) | 7mm-08 (K) |
| .308 Win (K) | .30-06 (L) |
| .338-06 (L) | 8 x 57 JS (L) |
| 9.3x62 (L) | |
Calibres | Magnum (Magnum Bolt Required)
| | |
| --- | --- |
| 7mm Rem Mag (M) | .300 Win Mag (M) |
| .300 WSM (KM) | .270 WSM (KM) |
| .338 Win Mag (KM) | .358 Norma Mag (M) |
(Magazine Sizes in brackets - K=Standard, L=Long, M=Magnum, KM=Short Magnum)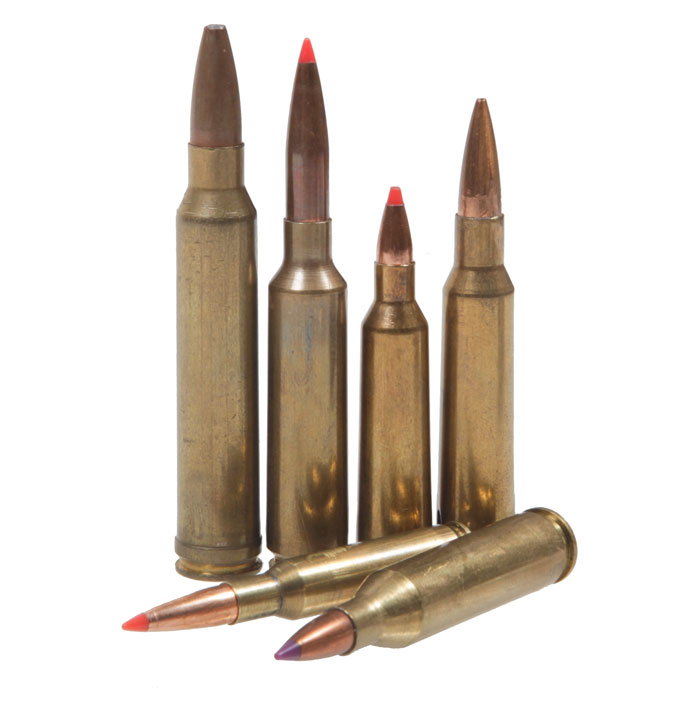 Supreme Versatility
The Schultz & Larsen switch barrel system makes it quick and easy to change calibres, allowing a heavy barrel set up for long range precision but switching to a lighter barrel for field work.  If you change between Standard and Magnum calibres you will also need to change the bolt.   One standard bolt can be used with all calibres in the standard calibre group and the Magnum bolt with all magnum calibres.