Schultz & Larsen | About
Schultz & Larsen were founded in 1889 by Gunmaker, Hans Schultz, to produce rifles with the emphasis on first class craftsmanship and high degree of accuracy.  This tradition has been the hallmark of the company ever since and to this day, every rifle made complies with the exacting standards of quality, strength and extreme accuracy set by Hans Schultz.
The production and design philosophy of Schultz & Larsen is to only use materials, construction and production techniques which we believe are the best with regard to quality, precision and strength.  Everything that looks like steel and should be steel is made of steel.
Safety has top priority with all locking parts designed and tested to withstand at least three times normal load.  In the case of an overload resulting in a primer blow-out or case rupture, the high pressure gas can escape through holes in the front of the action and on the side of the bolt.  This coupled, with the extremely tight fit of the bolt and action, ensures that the shooter is not injured.
The safety catch is three position and locks the bolt and blocks the firing pin.  The centre position allows unloading of the rifle whilst the safety is engaged.
Accuracy is ensured by Schultz & Larsen's world famous cut rifled barrels enhanced by the use of an extremely rigid receiver and a bolt that locks directly into the barrel.  
They are the only hunting rifle producer that choose to use cut rifled barrels.  Every barrel is produced from completely straight and stress relieved chrome molybdenum steel, carefully bored and cut rifled with the minimum stress on the steel.  Every barrel is internally polished with an individually cast tin lap and grinding compound to produce perfect uniform smoothness.  All of this creates a rifle that produces maximum precision under all conditions, a factor that makes top international shooters choose Schultz & Larsen barrels.
All Schultz & Larsen rifles feature a very convenient switch barrel system, allowing easy removal of the barrel for transport.  The same system allows for fast calibre change if required, even from standard to magnum calibres.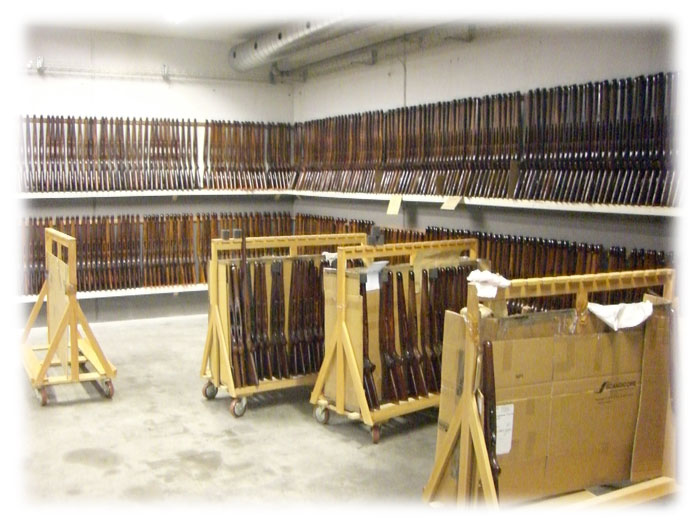 Long Established
Since 1889, the Schultz & Larsen name has been associated with very high quality rifles.  Modern machinery and better steel allows the Schultz & Larsen rifles made today to surpass even what was made in the past.