Weaver & Picatinny Bases
The Recknagel Weaver and Picatinny Bases are produced by Recknagel. With the exact hole spacing and radius to fit directly to the action. The front and back bases are an alternative to a full picatinny rail, reducing weight and creating a space between where the rings and bases attach to to the rifle. This allows for large scope mid-sections and allows your scope to sit lower and to get a closer fit to the barrel. The ideal scope position is as close to the barrel as possible.

Usually the individual bases are Weaver specification which are traditionally 4.57mm wide, but we also have bases with the Picatinny profile of 5.23mm wide. The Picatinny bases will allow both Picatinny and Weaver profile rings to be fitted, ideally you would choose Picatinny for a closer fit. Whereas, the narrower Weaver bases will only accept Weaver rings.
Recknagel Scope Mounts
Recknagel Weaver Base Mounts. Made from anodised aluminium, a perfect option as an alternative to a full length rail.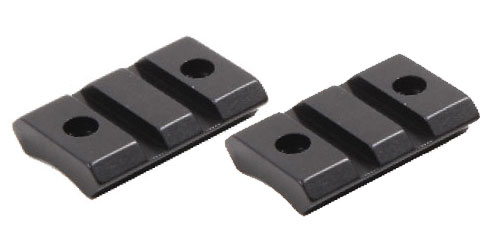 Weaver or Picatinny Bases
Both sets of bases are available from our Online Store. The other option is the Picatinny Rail, which provides a longer platform for mounting, typically useful for mounting night vision scopes as well as picatinny rings.